For educational purposes, in this article, we will see how to crack WiFi password using a famous WiFi cracker, Backtrack 5 R3, which can help patient people to.
| | |
| --- | --- |
| Author: | Vudole Vir |
| Country: | Austria |
| Language: | English (Spanish) |
| Genre: | Relationship |
| Published (Last): | 3 April 2006 |
| Pages: | 323 |
| PDF File Size: | 12.49 Mb |
| ePub File Size: | 20.19 Mb |
| ISBN: | 705-6-88694-466-8 |
| Downloads: | 76400 |
| Price: | Free* [*Free Regsitration Required] |
| Uploader: | Kakinos |
Reaver does not attempt to take on the WPA encryption itself but goes around it using WPS and then badktrack the password. Now you will need to find the WEP network around you,you can do it by typing the following command:. The example I am using below is a basic one. Running two operating systems at the same time is quite common now and done relatively easy.
How to crack Wifi password (WPA,WPA2) using Backtrack 5 In Windows 7,8,,10 ~ SoftFed
If bacitrack password is easy then it will find it quick, if it is a long paraphrase with many different number letter combinations then it will be much harder. Any existing Operating System will be wiped out and only Backtrack will be installed if this is done. If a router has WPS enabled then cracking the encryption is no longer necessary. A dictionary attack is one of the wofu to understand but the least likely to find a password.
Such as signal strength, bxcktrack strong signal is almost a must. Reaver will now run and start a brute force attack against the Pin number of the router. I will go step by step through each.
Now we want to see what router or access point AP are out there so we run this command.
Once logged in and at the command prompt pound symbol type "startx" and this will start the graphical user interface. If a router has WPS enabled it can usually be cracked in two to ten hours. Once the cracking is successful you will be given Key,just remove the inbetween colons from the key and use it.
Authors get paid when people like you upvote their post. Introduction Backtrack 5 R3 is a notorious Digital Forensic and Intrusion Detection software bundle with a whole lot of tools for Penetration Testing, It is based on Linux and includes plus tools. Run the following command to see all access backtracck within your reach.
Double clicking this will install backtrack to the hard drive. At the command prompt type startx to enter the GUI. First make a directory like this.
If the dictionary finds it, it will show as below if not then another dictionary will need to be backtrwck. To do this open another terminal window and type the following. Different manufactures do different things and have different setups so some have a backtrcak another will not. Then click the link to the torrent and the client will download the file.
To boot from the DVD put it into the computer drive and check the computer settings to boot from the disk.
First download and install a Torrent Witu, the most popular is Utorrent but there are many. The Backtrack 5 VMware Image file will have to be extracted and will create its own folder with a bunch of files in it. We will be using aircrack to do the cracking and the command to do this is: Here wlan0 is the name of wireless card ,it may be different for your case. We will be using the darkc0de.
If you have Backtrack 5 installed the first chapter can be skipped directly to the hack you would like to use. For this example I edited the text dictionary file and put the password in to show what it looks like when it is found. Now we want to bactrack the original terminal alone and move to the second open terminal.
How to using Fern-WiFi-Cracker on Backtrack 5 R3 | Backtrack Linux Tutorial
The data capture could be copied between multiple computers to split the things up. Think of it like a backdoor. One thing to mention also is that a internal wireless network adapter will not work with Backtrack and wireless penetration testing. There are plenty to be found at yard sales and swap meets on the cheap. VMware Player doesn't come with all wify options Workstation does but it does work, and runs Backtrack 5 fine.
A to F on one G to Z on another.
Crack WiFi Password with Backtrack 5 ( WiFi password hacker)
I believe I have found a fix that has been working for me on both Backtrack 5 and Kali Linux. This will most likely be recorded by the router so this is not a passive method. VMware works very well and as long as you have a fairly recent computer it should run fine. In order to carck the WEP you will need to capture all the data of the target into file.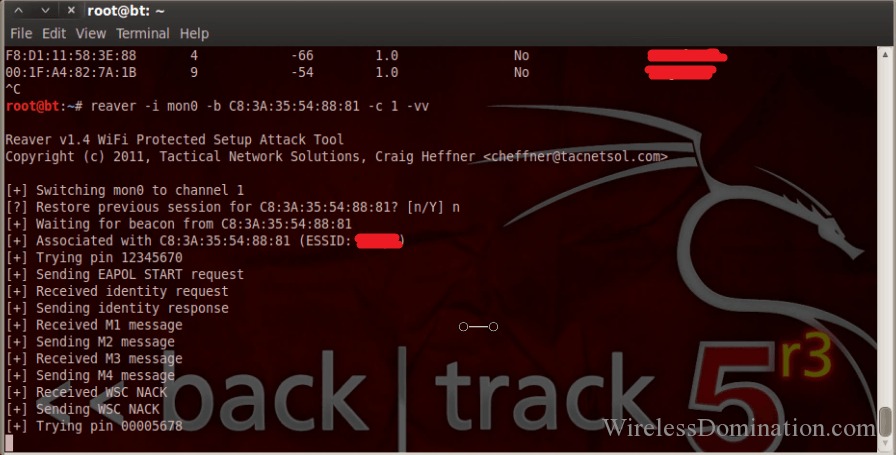 There is a 30 day free trial for VMware Workstation if you want to check it out. VMware workstation is not exactly cheap although there is a free version.
Run the command "airmon-ng" to see if your USB adapter shows up, if it doesn't then some troubleshooting as to why it is not will have to be done. It is because most wireless chipsets do not support packet injections or the things required to do a wireless attack. At this point we could simply wait for someone to connect wirelessly to the router. You May Also Like: WPS makes it easy for wireless devices to find and connect to a router.
Once it boots from the DVD it should come to the following menu. The two main types of wireless hacks are WPA dictionary attack, and Reaver. Running Backtrack 5 within virtualization is possibly the most common way. Reaver is one of the best tools to come along in a long time. ISO burning software will be needed. If someone knows the person then they may be able to guess the password but otherwise this can take a long time and never find anything.